What Is a 3-Way Moneyline?
Whenever you visit an Ohio sportsbook and check out the odds on a game, the moneyline is usually one of the first types of wager on offer. No frills, no tricks, no handicap – which of the two teams do you think will win?
But there are some sports where it is reasonably likely that the teams will be level at the end of regulation play. That means there are three potential outcomes – the home team wins, the away team wins, or it finishes in a tie.
With a three-way moneyline bet, you can bet on any of the three possibilities. The odds will be slightly different than those you will be offered on a classic two-way moneyline. But if, for instance, you have a strong sense that the scores will be tied at the end of a game – whether or not a period of over time follows – you can bet on the draw using the three-way moneyline.
Moneyline vs 3-Way Moneyline
The key difference between a moneyline bet and a three-way moneyline is the number of outcomes you can bet on. With a traditional moneyline, you can bet only on just two results – the home team to win or the away team to win.
In contrast, in three-way moneyline betting there are three options. You can bet on team A to be successful, you can wager on team B, and you can also place your money on the scores being level at the end of normal time – after three periods of an NHL game, or after 90 minutes of a soccer match, for instance.
Are their 3-Way Moneyline Promos?
You will be able to use your Ohio sports betting promos on a 3-way moneyline bet. Be sure to review the terms and conditions to confirm this is applicable to the promotion.
Most Common Sports to Bet 3-Way Moneylines
Some sports produce a tie, or a draw, more often than others. As a result, betting coupons relating to games in these sports are more likely to feature a three-way moneyline option.
3-Way Moneyline Soccer Bets
Soccer is probably the sport that is most conducive to three-way moneyline betting. That's because a significant proportion of soccer matches finish with the sides level after 90 minutes. A little over a quarter, 25 per cent, of games played finish in a draw. As a result, soccer bettors should always take into account the possibility of the scores being tied.
For example, the 2022 FIFA World Cup final between France and Argentina finished 2-2 after 90 minutes. Any soccer wagers on the tie, which was priced at about +200, would have been paid out as winners – even though Argentina eventually went on to lift the trophy after extra time and penalties.
3-Way Moneyline Hockey Bets
Hockey is another sport that produces a reasonable proportion of games where the scores are level after the three periods of regulation time. In most NHL seasons, more than 20% of fixtures finish in a tie – which equates to between 250 and 300 games every year. As a result, if you enjoy hockey betting, you may want to check out the three-way moneyline betting on a game.
Of course, all NHL games are played to a finish using overtime. As a result, you may see the three-way moneyline referred to as the 60-minute line at NHL betting sites. You can still place a two-way moneyline bet, which will pay out after overtime has decided a winner. In the Stanley Cup playoffs, for example, the first goal is the clincher. Alex Martinez won the Stanley Cup in 2014 for the Los Angeles Kings when he scored against the New York Rangers.
3-Way Moneyline Boxing Bets
Boxing tends to produce a straight-up winner, but at the same time there have been some famous draws throughout the sport's history. For that reason, you may find a three-way line offered on big title fights, even though the proportion of bouts that end in a draw may be as little as 5%.
One reason why this is offered is that there is no overtime period, or extra rounds, in boxing. If a fight is declared a draw, there is no way of splitting the fighters apart from a rematch. One of the most notorious draws in boxing history was the 1999 fight for the world heavyweight crown between Evander Holyfield and Lennox Lewis. A rematch was announced immediately, in which Lewis won a unanimous decision.
Less Common Sports to Bet 3-Way Moneylines
Three-way moneyline bets are a less popular option when it comes to certain sports, where a draw is a much rarer outcome. If there is less likelihood of a game finishing in a tie, most bettors will probably stick with the two-way line.
3-Way Moneyline Football Bets
Regular season games in the NFL rarely end in a tie, or draw, with the scores level at the end of overtime. Even OT itself is a fairly unusual outcome, with the extra period required in only about 5% of fixtures. When it comes to ties, though, this happens once or maybe twice every football season. That makes the odds on the tie extremely generous – often +6000 and upwards. Which makes for a great potential payout if it happens.
In the 2022 NFL season, two games finished as a tie after overtime, both featuring the same score. The Indianapolis Colts and Houston Texans drew 20-20 on the opening weekend, and a few weeks later the Washington Commanders and New York Giants recorded the same score. That was the first time there had been two tied games since 2018.
3-Way Moneyline Baseball Bets
Major League Baseball games cannot end in a tie. The teams play extra innings until one side scores a clinching run. Famously, in the third game of the 2018 World Series, the game went to the 18th inning before the Los Angeles Dodgers beat the Boston Red Sox.
If you bet on the three-way market on an MLB game, it will relate to the score after nine innings. A bet on the draw is effectively a prediction that extra innings will be needed to split the teams. In a big fixture at Yankee Stadium, the New York Yankees might be priced at -200, the Boston Red Sox at +180 and the tie at +400.
3-Way Moneyline Basketball Bets
In basketball, as in baseball and hockey, there is no such thing as a tie. NBA teams must play extra periods until a winner is identified – and only 6% of games in the NBA go to overtime.
That means if you bet on the draw, or tie, on the three-way moneyline, you are effectively predicting the game will go into overtime. You should expect to get odds of at least +650 about the tie if you are placing three-way moneyline bets on the NBA or college basketball.
Tips to Bet 3-Way Moneylines
If you enjoy a two-way moneyline, but want to introduce a bit of variety to your betting every now and then by trying a three-way line, there are some details you need to know. With a little research, you could seriously enjoy wagering on markets with three possible outcomes.
3-Way Moneyline No Push Explained
This is one of the biggest differences between two-way moneylines and three-way moneyline bets. If you place a bet on a traditional moneyline with, with a win for either side the only betting options, a draw leads to a "push." That means the bet is void and you get your stake back.
However, once you introduce the third option of the draw, if the teams finish level that outcome has hit – and if you have bet on either of them to win, your bet loses.
Know Your League
Many bettors carry out extensive research before placing any wager. It's particularly important to know what the stats tell you before you start placing three-way moneylines in a certain league or sport.
Check out how often a game ends with the scores level – in soccer, this is extremely common compared to the NFL or the NBA. And always be sure you understand whether the three-way moneyline market applies to regulation time or after overtime, with the game ended.
Understand the Overtime Rules
With most operators, three-way moneyline betting applies to regulation time; any overtime played is discounted. However, always check the coupon when you play – it should make it completely clear what period is covered.
The three-way soccer moneyline is fairly standard, but there may be a variation on sports such as three-way moneyline betting on the NFL, for example, when you may want to bet on the remote possibility of a tie after overtime.
3-Way Moneyline Ohio FAQs
A three-way moneyline is a variation on the two-way moneyline. An extra option is added, which is the chance to bet on the teams to tie after regulation time. It's particularly common on soccer betting, because so many soccer matches – about one-quarter – finish with the scores level.
Because three-way moneylines include the draw option, your bet cannot be "pushed," and your stake refunded. Bettors who are used to the two-way moneyline, when such an outcome is the upshot of a game finishing level, need to understand the distinction to avoid disappointment.
The three-way moneyline in hockey is often referred to as the 60-minute line. It relates to the market during regulation play, and does not include overtime. That means if you wager on the Columbus Blue Jackets to win on the three-way moneyline, and the game goes to OT, you will not collect even if they win.
You need to be check the conditions when you play the three-way moneyline on NFL games. This usually relates to the result after the fourth period – about 5% of NFL fixtures go to overtime and will thus pay out on the draw. However, the market may include the possibility of a tie, which happens roughly once a season.
Author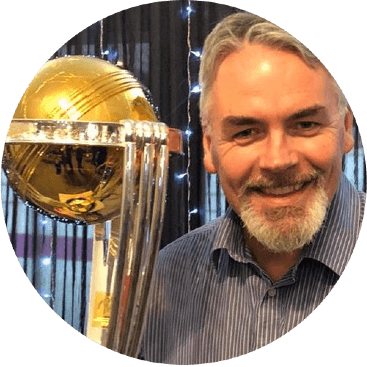 Martin has reviewed sports betting sites and online casinos from all around the world including all the top brands in Canada. An expert at picking out exactly what sets each app apart, Martin is our go-to source when it comes to informing our readers on what the top betting apps and casino sites have to offer in Ohio.